5 Dysfunctions of a Team

Our work and programs have proven especially effective for bringing projects in on time with a high-level of customer satisfaction. Whether the teams are newly formed or in need of refocusing and renewal, we have achieved tangible results quickly.


Team builders will, at one time or another, face the challenge of fostering group harmony in groups where there is inevitably going to be flaws due to human nature. According to author Patrick Lencioni, human beings are inherently dysfunctional. Too often, leaders try to unite dysfunctional teams. Therefore, team builders must recognize and drive groups to overcome certain behavioral tendencies, many of which are negative and can bring down an entire organization.

The purpose of our program is to align the team under a common vision and direction while taking into account different objectives and needs. As stated in the Participant Material of Five Dysfunctions of a Team, the objective is simple: To make substantial progress to becoming a more cohesive team.
1-Focus International is using the workshop material and assessment based on The Five Dysfunctions of a Team.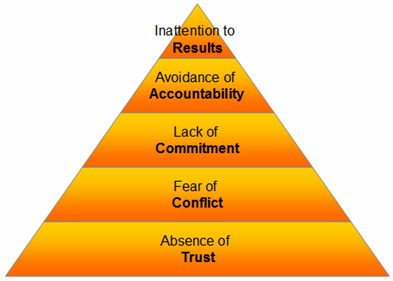 The Five Dysfunctions of a Team Program may appear to be a three day workshop, but it is, in fact, based on practical needs and results. It has been designed by the author of the book to provide a structure and methodology for senior teams to become high performing. It is based on a simple and proven model using exercises that Fortune 500 companies have found useful.

We help teams develop answers and related action plans around the following questions:
Why do we exist (our purpose)?
Where are we going (our vision)?
How will we work together (our values)?
Whom do we serve (our customers)?
What are their needs/issues?
What is expected of us (goals)?
What are our strengths?
What are our performance gaps?
What are our goals and priorities?
What's our improvement plan?
What barriers do we need overcome?
What skills do we need to develop?
What support is available?
How will we track our performance?
How/when will we review, assess, celebrate, refocus?

Most of today's organizational improvement efforts depend heavily upon teams. However, research has shown that 80 percent of »change management« efforts are failing. One study, for example, found that only 13 percent of teams received high ratings. Another extensive study of teams found that in more than half the teams studied, »team members gave up«.

The problem is that many so-called »teams« aren't. Often they are too bureaucratic, poorly focused, and weakly led groups, committees, task forces, or councils. Here are some of the common reasons that teams fail:
Fuzzy Focus and Cloudy Context
Not Pinpointing Customer/Partner Performance Gaps
Lack of Clear communication between team Members
Poor Priority Setting and Improvement Planning
Superficial Skill Development
Flimsy Feedback and Measurements
Unrealistic Goals
Conflicting Priorities

We help organizations understand the power and problems of teams, launch and sustain new teams or renew and refocus existing teams, develop vital team leadership and effectiveness skills.
Because: Where teams have been effectively organized and led, the list of team outcomes have led to dramatic improvements in productivity, customer service, quality, process management, innovation, cost effectiveness, job satisfaction, morale and financial performance.
So if you are interested in a highly effective team development program - please

contact us for further information.