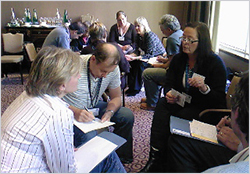 Purpose – Provide the Senior Executive and Leadership team with an understanding of what is needed for them to achieve a successful outcome and how best to make it happen, leveraging their knowledge culture and experience. Participants will also gain firsthand understanding of what people go through in an M & A, and the critical impact the 5 Critical Issues for Merger Excellence play.
Participants – The individuals who are responsible for determining the vision, directing the integration, defining the processes, establishing the success criteria and ultimately implementing the changes.
Approach – An experiential process centered on our Merger Identity Simulation enabling immersion, debriefing, and effective cross-organizational planning and integration of change management for new identity building. Emphasis is on the practical -- Human Dimension.
The training includes
Aligning Merger Cultures
From Multiple Visions to a Collective Identity
A Integration Model (top-down / bottom-up)
Culture of Engagement
Developing High Potential Leaders (at all levels)
Cross Culture / Border Challenges
Coaching Global Leaders for Success in Post-Merger Integration