1-Focus International deals with the issues surrounding change and leadership development with a holistic, systemic and integrated approach. Our particular passion is assisting leaders and organizations learn how to navigate the waters of merging businesses, departments and teams while ensuring that they continue to grow and sustain vibrant and united organizations.
Mergers and Acquisitions often create winners and losers at both the corporate level and for individual staff. One culture unseats another. One employee outweighs another. Power struggles prevail. While policy and organizational decisions are made from above, the organization waits . . . It sits in limbo and disengages from its focus. Engaging across corporate cultures could be a near-fluid process of creating meaningful, value-driven focus and corporate loyalty from the onset.

But reality is: Nearly 80% of all mergers and acquisitions fail due to an inability to combine cultures and visions, resulting in internal conflict and political in-fighting. Our Merger Readiness Program assists in traversing through this terrain.
Leadership style, timing and a collaborative implementation approach fostering employee participation tip the scales between enabling engagement versus disengagement across cultures, thereby establishing the requisite new corporate identity, focus, loyalty and purpose.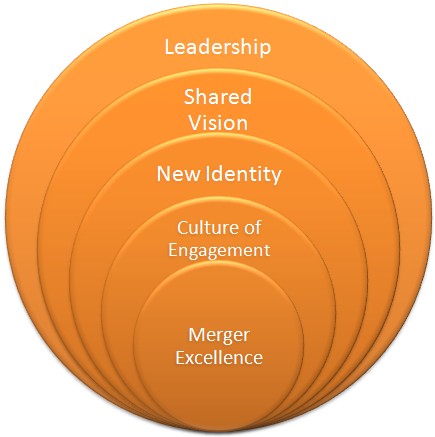 Model of: Merger Readiness

™
To request our white paper on [the human dimension of] mergers: Send a email to mergers@aweber.com

With 1-Focus we integrate the separateness in the new corporation into an effective, focused, involved workforce working toward the same vision in a short period of time. Through our structured, yet custom-tailored process we develop common ground within weeks and assist you in building a strong new brand and company architecture. We help you bridge the gap and reach success.
People integration is critical to success in any change management process. M & A's differ from "normal" change processes in that their very nature requires that a new corporate identity and cultural integration are established for the two entities. Our 7 Step Organizational Change Process enables alignment between the leaders' with the executive team's vision and the total system activities.